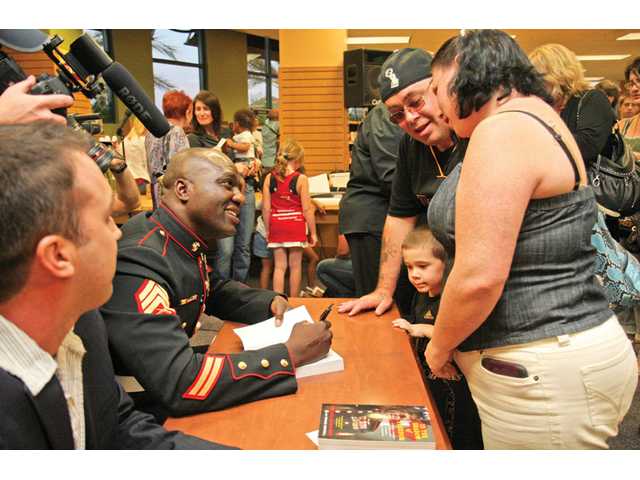 Profile: Tchicaya Missamou's life story reads like a improbable movie script
By Michelle Sathe Assistant Features Editor, SignalSCV.com
Freedom. The American dream. The idea meant everything to a young Tchicaya Missamou.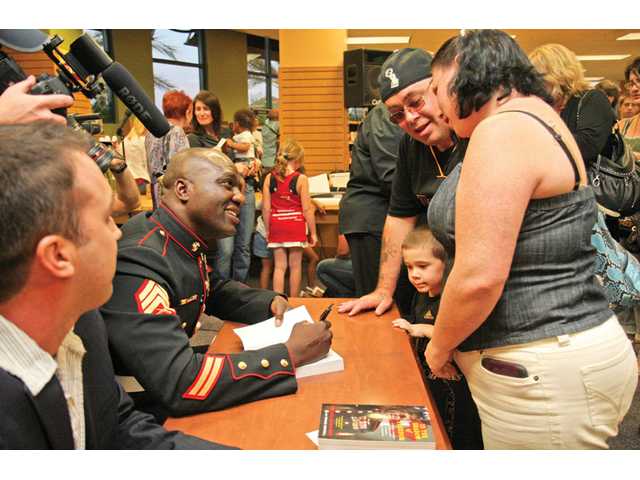 An African child soldier at age 11, the Congolese-born Missamou knew if he could just get to America, he would be able to achieve the goals he set for himself. An education, a successful business, a family and a place to live without the daily threat of violence. Goals that could never be realized in the corrupt, poverty-stricken nation in which he was born.
"The first white man I ever met, when I was 7 or 8, was big and blonde with blue eyes," Missamou recalled. "I asked him, 'How can I become like you?' He slapped me hard on the back and said, 'You can't. I'm a Marine, an American.' I thought he was the savior of the world."
Ambitious from the start, Missamou took his natural gifts — a quick mind, a strong body and an indomitable spirit — and parlayed them into an illegal empire to ferry jewels, cash, computers and white diplomats out of Africa. He was rich by age 17.
By age 19, he was a wanted man, his family brutalized. Missamou escaped to Europe and eventually came to the country of his dreams.
America — where he became a Marine sergeant, a business owner, a husband, a father, and just recently, an author.
Autobiography
Missamou's incredible story of will and survival has been captured in his new book, "In The Shadow of Freedom," co-written with Travis Sentell and published by Atria Paperback, a division of Simon & Schuster.
While Missamou had wanted to write his memoir for a long time, it wasn't until he met Sentell — through a mutual friend — that the book began to take shape.
"We went out for lunch and  on our way to the restaurant, Travis said, 'I know you have a story. Tell me.' I said, 'Alright, buckle up.' In a half hour, I  had told him maybe a quarter, or a half, of the story," Missamou recalled. "Travis said, 'Your story is bigger than you think. You need to put this on paper.'"
A few days later, Sentell called Missamou and set up a time to meet again. After an hour, according to Missamou, Sentell went home and wrote the first 15 pages of "In The Shadow of Freedom," which have remained the same, with no edits.
"I told him, 'You write the way I'm saying it.' I talk about the people of Africa, I believe I'm ambitious for the people of the Congo," Missamou said. "Most people forget or don't care what's going on in Africa. They forget that Africa is the birth of humanity. I'm sharing the life of millions of Africans."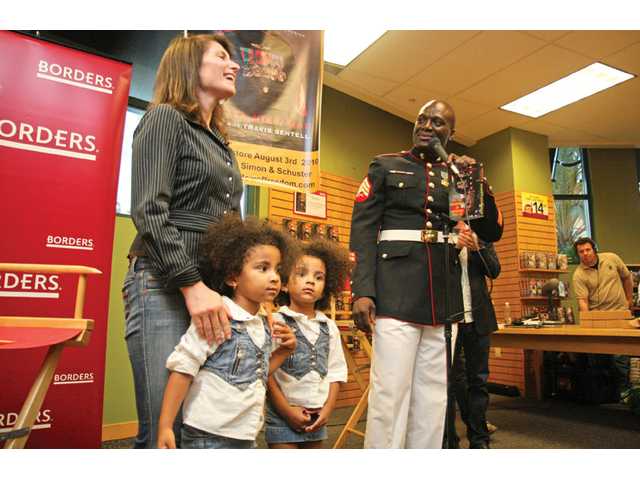 An African tale
So far, Missamou has been sharing his tale of Africa with a multitude of Americans. Recently featured on Fox News, Missamou has been traveling the country to read and sign "In the Shadow of Freedom." A signing at Valencia's Borders Books & Music in August drew more than 200 of Missamou's friends, relatives and members of  Warrior Fitness, the gym Missamou owns and operates in Valencia.
"In The Shadow of Freedom" opens with Missamou's return to the Congo in 2004, where he was arrested and imprisoned before being rescued by the United States military, and flashes back to the years and often-times horrific experiences that shaped him.
In person, Missamou is charming, passionate and pragmatic when sharing his past.
"We don't call it a child soldier in Africa, it's more like a gangster. Some were forced, some volunteered. I volunteered. It was a way for me to protect my family," Missamou said. "It's more rough (in Africa). People use machetes. They drug kids or give them alcohol. In America, no one forces you to become a gang member. They think it's cool."
He's also quick to acknowledge the positive points of his African upbringing, which Missamou described as the archetypal "it takes a village to raise a child" environment.
"A child is not raised only in the house, but in the streets. In Africa, the neighbor has the right to discipline a child. Everyone is watching you and is concerned about your well-being," Missamou said. "In Africa, if one person succeeds, the whole village succeeds. It's the success of the country and the success of the continent."
Becoming a success
In 1997, the Congo was at war. Armed with a fake passport and fortified by a very insistent father, who threatened to shoot down the plane, which would carry his son, were he not to board, Missamou made his way to France, where he spoke the language and could live with a relative.
There, while working at a warehouse, Missamou saw the Dr. Dre and Tupac Shakur video for "California Love" on MTV. As he listened to the last note, he made up his mind. He would come to California.
He landed in Sacramento on Feb. 14, 1998, and began taking classes at a local college while working as a janitor at a studio. He became a manager six months later.
In 2000, inspired by a new friend who had joined the military, Missamou passed the test to become a Marine and was issued a green card. After the 9/11 attacks in 2001, Missamou fought in Iraq. 
In 2003, upon returning to the United States, he was sworn in as an American citizen to much fanfare.
"America is the greatest place on Earth. It's the only country that took me, taught me to speak the language. When I needed food, shelter, education, America gave it to me," he said. "The one thing that America gives you is freedom. It's up to you as to do what you can do with it."

Fitness warrior
With his newfound freedom as a citizen and military veteran, Missamou settled in Fillmore. He had married Ana, a Bulgarian woman he met at a Germany train station in 2000. After their initial meeting he remained close with Ana through writing letters until she came to America — where their relationship deepened.
Missamou described their first meeting. "I saw a  beautiful woman drop something. I approached her and we made eye contact. I thought, 'She could be my wife'," Missamou said of Ana. "She's educated, her parents believed in family values, she really takes care of her husband. Ana's my great support and my number one fan."
The couple moved to Saugus in 2006, where Missamou started fitness training for clients out of his garage. He based his training on his African military and street experience. In less than six months, he had 36 clients, and opened the Valencia Warrior Fitness gym in February 2007.
Now, more than 200 clients work out with Missamou and his staff comprised solely of ex-military personnel. The training is usually conducted outside — and often in public — running, carrying one another for extra weight and getting hosed down as they lift massive poles together as a team.
"It's Congo-style. American people use machines, but we would use manmade things in Africa — tires, water hoses, street poles. My training combines these things together," Missamou said. "I make (clients) sing and dance after I kick their butt."
He described Warrior Fitness as a family gym, where people can bring their children. He brings his children — twin daughters Marie Vagansi and Yana Simbasi and son Allan Kelvin Tamsi. Missamou's mother joined the family as a permanent American resident in 2008.
"I am blessed. Through hard work, I have achieved great success. Hard work always pays off," Missamou said. "If people think the American dream doesn't exist, I'm living proof."
Still, Missamou — who acquired a master's degree in business administration from the University of Laverne and is pursuing a Ph. D in education — never forgets his African roots.
"They taught me well. They told me, 'Bad days make better days' and that 'men should never live in the present, but live in the present like it's your last day on earth,'" Missamou said. "It's what you do today that matters."
For more information visit www.intheshadowoffreedom.com or www.thewarriorfitness.com.