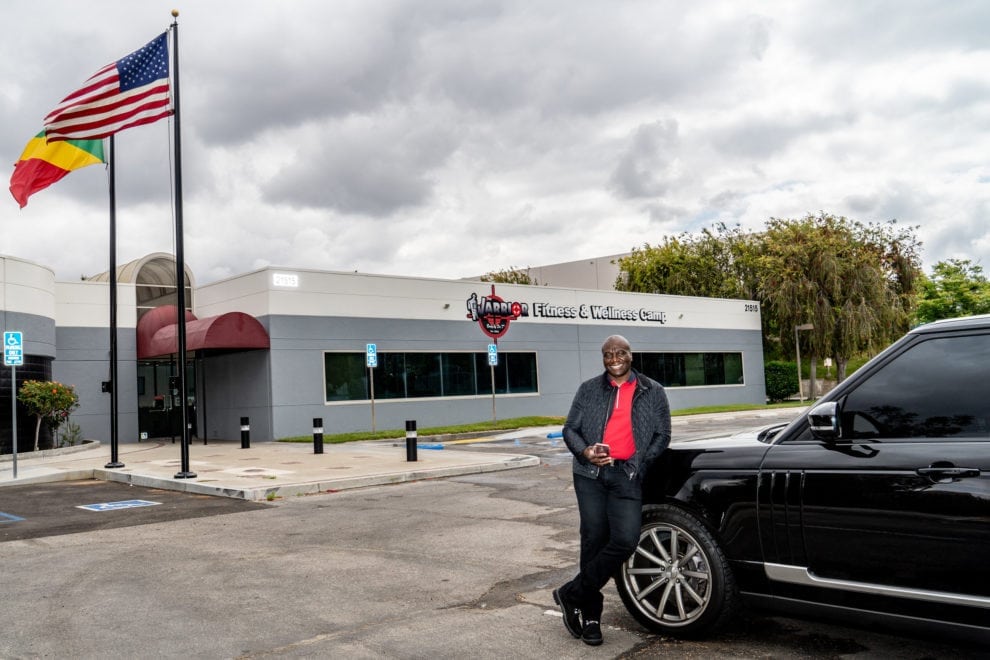 There's a membership cost … like other gyms. A well-equipped weight room … like other gyms. And trainers and class schedules … like other gyms.
But, Warrior Fitness is not just another gym. Rather, Tchicaya Missamou, the owner who goes by the nickname of Dr. T, sees it as a place of beginnings for those among us seeking a new lease on life through exercise and nutrition.
After relocating from a smaller space on Diamond Place, The Warrior Fitness & Wellness Camp will reopen in the former William S. Hart Union High School District building at 21515 Centre Pointe Parkway, which has been revamped to not only include multiple workout spaces but on-site housing accommodations and a health-conscious juice bar and café.
The day-long grand opening celebration, which is set to include a host of local dignitaries, will open at 9 a.m. with a Marine color guard.
"When I came to America, I was illegal. I was a refugee," Dr. T said this week. "The American people didn't have to help me, but they did. They picked me up. They gave me shelter. They gave me an education. They gave me freedom.
"That's what the Warrior Fitness & Wellness Camp is going to do, too," he said. "We're going to give people their freedom."
A freedom, that is, from junk food, inactivity and the other symptoms of obesity that, according to the National Institutes of Health, lead to an estimated 300,000 deaths annually in the United States alone.
The good news: The deaths are preventable – with proper education, exercise and eating.
"We have to go back to the basics," Dr. T said, adding that physical activity without mindfulness is simply "a waste of time and money."
The Warrior Fitness & Wellness Camp features many of the common gym amenities, from an assortment of weights to a spin cycle room to floor space for yoga, Zumba and other high-intensity activities.
Want to put the beatdown on stress? There's a "hot" boxing room lined with punching bags, too.
It's the Warrior's wellness camp that sets it apart from other fitness centers. The camp program will allow for up to four participants to live on-site in a newly crafted two-bedroom, two-bathroom apartment in the back of the building as they work to burn calories and drop weight.
"It's like 'The Biggest Loser,'" Dr. T said, referring to the longtime NBC reality show.
And, like the TV show, the Warrior's weight-loss program won't be easy, featuring a variety of intense workouts designed to push participants to their limits and, sometimes, beyond.
How demanding will it be? "I just copied and pasted what the Marine Corps taught me," Dr. T said.
As part of the grand opening celebration, The Warrior Fitness & Wellness Camp is offering a 50 percent discount for anybody in the surrounding Centre Pointe neighborhood, plus a free 3G body analysis and consultation.
The center's juice bar and café will be open to members and non-members alike, Dr. T said. On-site child care is also available.
To learn more, go online to the Warrior's website at www.thewarriorfitness.com.