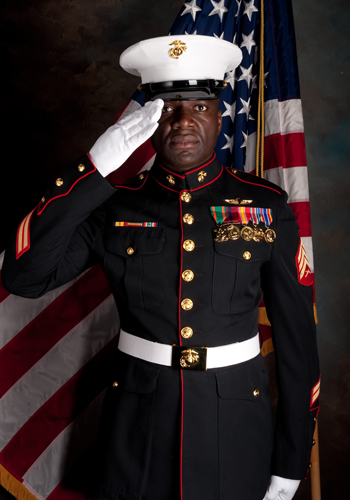 SGT. TCHICAYA MISSAMOU
Philosophy
Working harder than the man next to me. The best never rest, you rest when you die. Life is easy, don't make it difficult. No man knows himself unless he has suffered. Congo to America, the sky's the limit.
Military Service
8 years USMC
I have been deployed all over the world to fight terrorism.
Hobbies
Working, Martial Arts, Motorcycles, Cooking
I love spending time with my family.
More From Tchicaya:
I am the most brutal and vicious and ruthless trainer there's ever been. When I train my members I take them beyond greatness. When they feel the pain my count start. They mess up once, and they will remember that for the rest of their lives. I get in their heads to break them down and build them back up with steel. My Warriors' minds are more powerful than a nuclear bomb. When they go off they release radiation. My Warriors lose inches and drop weight like flies, and build muscles like there is no tomorrow. Our training makes fat cry. You will puke, pass gas and curse at the same time.

Yes, you will hate us during the workout but love us when you stand up in the front of the mirror naked looking at your sexy body. Warriors Fitness Camp is always IMMITATED BUT NEVER DUPLICATED. We are the best in business. Our competition has headaches every time they see us. Our Warriors are up before the sun rises and sleep way after the sunset… We rest when we die. We Improvise, Adapt and Overcome. You try it once you will be addicted like a crackhead.

I was born and raised in the Congo, in Africa. I have witnessed the brutalization of my own mother. My dad was tortured and today he is HIV positive. I was on my own since the age of 7. I learned to lead people at 11. The most powerful military institution in the world trained me: the Marines. In the top of my class at the school of Infantry, I earned a double major MBA from the University of Laverne in Los Angeles, working toward my PHD on education. I am a married father of 3. I am a Master in Fitness, motivational speaker, author of In The Shadow of Freedom published by Simon & Schuster. I am the president founder of the Hope For Congo Foundation, a 501C3 non-profit organization that has the mission to help educate the children of the Congo. I founded the Warriors Fitness Camp in 2006 because I knew there is a need of my training and vision in this country. If I can do it, you can too.

You saved my life, now let me save yours. Follow me if you want to live longer.

— T.M.