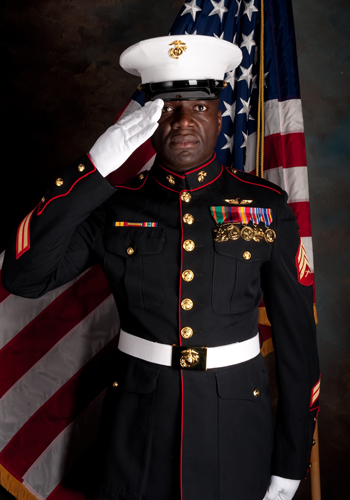 SGT. TCHICAYA MISSAMOU
Philosophy
Working harder than the man next to me. The best never rest, you rest when you die. Life is easy, don't make it difficult. No man knows himself unless he has suffered. Congo to America, the sky's the limit.
Military Service
8 years USMC
I have been deployed all over the world to fight terrorism.
Hobbies
Working, Martial Arts, Motorcycles, Cooking
I love spending time with my family.
More From Tchicaya:
I was born and raised in the Congo, in Africa. I have witnessed the brutalization of my own mother. My dad was tortured and today he is HIV positive. I was on my own since the age of 7. I learned to lead people at 11. The most powerful military institution in the world trained me: the Marines. In the top of my class at the school of Infantry, I earned my PHD on education. I am a married father of 3. I am a Master in Fitness, motivational speaker, author of In The Shadow of Freedom published by Simon & Schuster. I am the president founder of the Hope For Congo Foundation, a 501C3 non-profit organization that has the mission to help educate the children of the Congo. I founded the Warriors Fitness Camp in 2006 because I knew there is a need of my training and vision in this country. If I can do it, you can too.
You saved my life, now let me save yours. Follow me if you want to live longer.
— T.M.